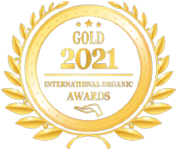 Amber in color with coppery highlights, this exceptional Cognac is produced from a blend of organic Cognacs aged in oak casks for a minimum of 5 years before spending several more months in Sauternes barrels.
Rich and generous, it offers a grand, mouth-fillingly flavorful sensation that is opulent and sensual, displaying aromas and flavors of roasted pineapple, mango and preserved fruit, bergamot, fig and exotic fruit, all supported by a delicate toasty wooded structure with spices and hints of Bourbon vanilla, oak and cinnamon. The enticing smoothness and charm it exudes is accompanied by a discreet minerality, producing a long and lively finish, subtly floral, that imparts an incontestable elegance and refinement.
The complexity of Le Chaigne Cognac reveals itself gradually when served straight, with a splash of mineral water, lightly chilled or with a large ice cube. In a cocktail, it is perfectly accompanied by ginger ale or tonic water, and can add character to a highball's sparkle for a festive air.